The SLCMA Community Nursery has a wide range of native plant species available for purchase by the public.  The majority of plants come as tubestock and all are sun-hardened with a good root system, ready for planting.  Seeds are sourced locally and grown by our Nursery Officer and volunteers, in the nursery.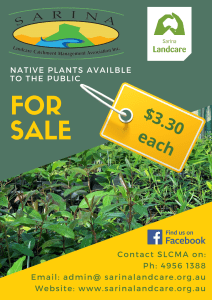 How to purchase plants!
The SLCMA Community Nursery is open to the public by appointment only or you can pre-order through the Plant Order Form (below) and arrange pick up.  We also hold native plant sales throughout the year, which are advertised to our members, monthly newsletter and facebook page.