Rehabilitating the Sarina Catchment
This is a Great Barrier Reef Foundation's Community Action Plan project funded by the partnership with the Australian Government's Reef Trust.
(November 2021 to 30 June 2023)
Mackay Whitsunday Isaac Reef Community Action Plan identifies expanding multi-stakeholder revegetation events as a primary priority. Sarina Landcare Catchment Management Association (SLCMA) will implement a multi-pronged approach that engages the 'community', including youth, volunteers, landholders, stakeholders and Traditional Owners, in coastal rehabilitation. The 'community' will be engaged in the delivery of on-ground rehabilitation activities at priority coastal sites within the Sarina Catchment as well as participate in awareness raising events.

The project aims to improve the on-ground condition of and build resilience at two community sites (Grasstree Beach and Carmila Beach) that will provide benefits to adjacent marine environments and ultimately protection of the reef. The project aim will be achieved through land-based activities of weed control, revegetation, marine debris collection and surveys, native plant propagation as well as raising awareness of the importance of having healthy, resilient coastal areas, being the interface to our marine environments. The project will also provide opportunities for the community to be involved with on ground activities through planned events such as working bees, monitoring and marine debris collection events.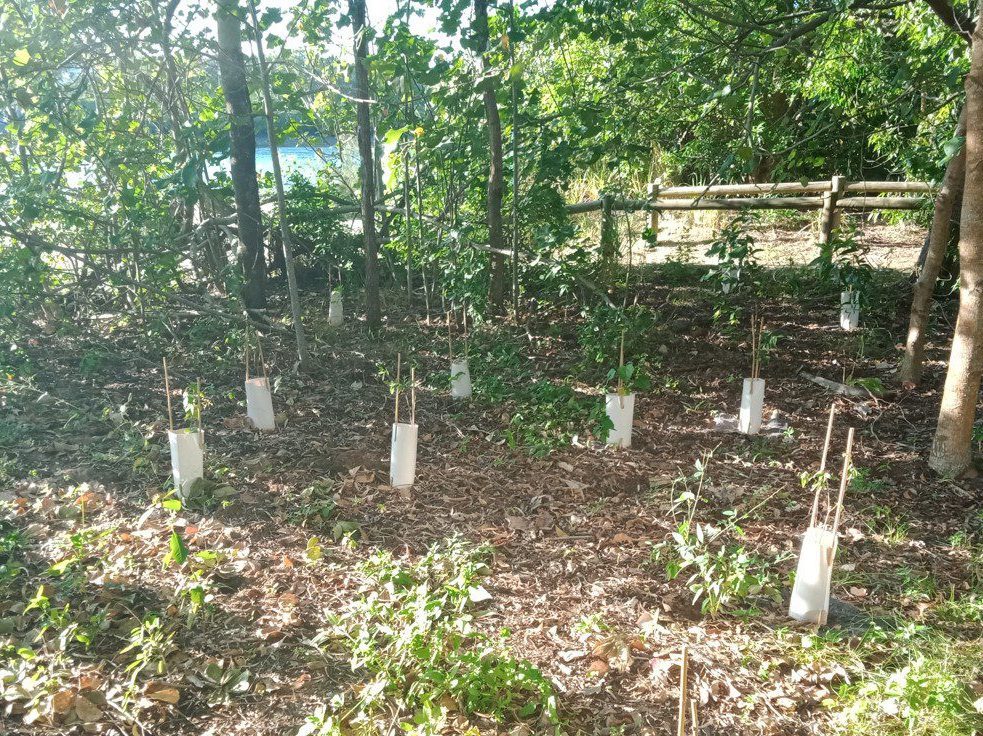 Enhancing the Sarina Inlet Trail
Funded by The Aurizon Community Giving Fund
(December 2021 to December 2022)
The project will enhance the biodiversity and resilience of native vegetation and habitat along the Sarina Inlet Trail. The Sarina Inlet trail is a 400m walking trail that meanders along the mangrove edge linking Sarina Beach to Johnsons Beach. It is well regarded and utilised by locals and visitors to the area.
Reef Assist Program
The Reef Assist project is funded through the Queensland Government's Reef Assist Program through Reef Catchments (Mackay Whitsunday Isaac) Limited.
(January 2021 to November 2021) extended to December 2022
SLCMA is delivering the Reef Assist Program in collaboration with Whitsunday Catchment Landcare (WCL)and Pioneer Catchment and Landcare Group (PCL) through the Central QLD Coast Landcare Network (CQCLN), in partnership with Reef Catchments.
The Reef Assist program will provide short, medium and long term economic and environmental outcomes to the Mackay Whitsunday Isaac region by providing the community with new skills, resources, and opportunities to protect and enhance its land and sea assets. Through the program, SLCMA will employ and train 2.5 FTE staff to assist landholders in a variety of conservation and land management activities at new and existing rehabilitation project sites within the Sarina Catchment.
Sarina Community Native Gardens
Inkind support from Mackay Regional Council
2009 – Ongoing
The Sarina Community Native Garden was established to demonstrate the use and benefits of native plants with inspiration from the SLCMA staff & volunteers, approval from Council, advice & support from other groups including Society for Growing Australian Plants, Mackay Regional Botanic Gardens, Mackay Regional Council and Conservation Volunteers Australia.
The Sarina Community Native Gardens were officially opened in 2013 by Costa Georgiadis and is managed by SLCMA. SLCMA facilitates a weekly get together for the Friends of the Gardens volunteers, who along with SLCMA staff undertake ongoing improvements and maintenance of the gardens. Thank you to Mackay Regional Council who continue to mow the area.
Land For Wildlife Program
Funded by Mackay Regional Council
Annually
Land for Wildlife is a voluntary program that encourages and assist landholders to provide habitat for wildlife on their properties. The program is free. Whether you manage a large farm or small bush block, the Land for Wildlife program can offer you advice and assistance.
Land for Wildlife